Thanks for visiting our website!
Since March 1st, 2012, OSM Networks has proudly provided website design, development and hosting for Quinte Health Care
. We've helped QHC, now let us see how we can help you! Simply complete the form below and one of our sales reps will be in contact with you.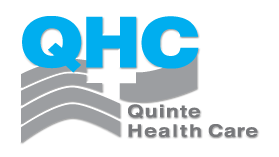 Quinte Health Care provides a wide range of high quality health care services to 160,000 people living in the diverse region of Prince Edward and Hastings Counties and the southeast portion of Northumberland County. Care is provided through four hospitals – QHC Belleville General Hospital, QHC North Hastings Hospital, QHC Prince Edward County Memorial Hospital and QHC Trenton Memorial Hospital – and includes four emergency departments, operating rooms at three sites, a rehabilitation day hospital, children's treatment centre, ambulatory care clinics, community mental health programs and a range of diagnostic services. There are 255 inpatient beds for acute medical patients, intensive care, obstetrics, paediatrics, mental health, complex continuing care, rehabilitation and surgery.
Contact Us