OSM News
New Website Build for Bel-Con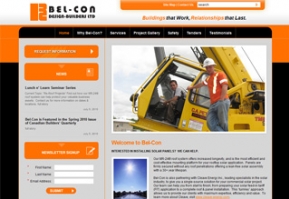 Bel-Con Design Builders Ltd. has just launched their brand new website!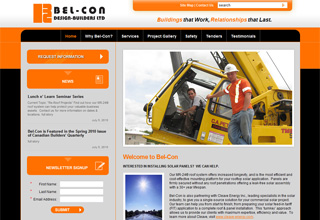 OSM had the privilege of working with Bel-Con to restructure their website content and provide an updated design for their online presence. Using the striking orange and black company colours, we designed a clean, simple site that would really allow their project galleries and photos to stand out. The new website also features a photo rotator on the home page, showcasing some of the work Bel-Con does and some of the people behind the work.
Visitors can inteact with the site in a number of ways, including, requesting a quote online, signing up for the e-newsletter, or logging in to view tender opportunities.
Bel-Con's slogan states "Buildings that Work, Relationships that Last." We would like to add "Websites that Work, Relationships that Last." It has been a pleasure working with you and we look forward to meeting your ongoing web needs.
Features Include:
SiteApex Content Management System
Secure Login Area for tender opportunities

Resource Library Module for easy management and tracking of the tender opportunities

Editable forms that collect valuable contact information from visitors
E-newsletter system

News Manager with Mini News Feed to provide a quick news archive with most recent stories appearing on every page


OSM Networks is a web design and development firm located in Belleville, Ontario. Serving clients world-wide since 1997, OSM strives to help empower businesses and organizations take control of their websites giving them a look they can be proud of and the tools they need to grow online.