OSM News
New Website for Kingston Police Force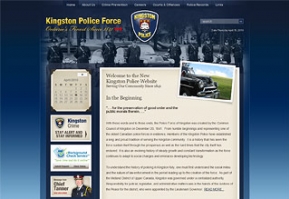 When the Kingston Police Force needed a new online look, they turned to OSM Networks to help deliver a functional, self-up-datable website that fit their vision as an organization. As one of the oldest police forces in the province, the Kingston Police Force is proud of their heritage and officers belong, not just to the force we see today, but to a long heritage of police officers serving the Kingston area.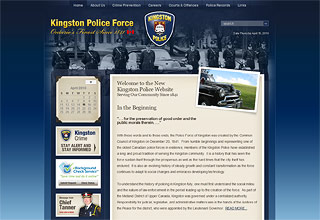 The new website needed to show the present day force as modern and cutting edge with new online tools, such as the online background checks and regional crime reports, while maintaining a feel for the legacy of the organization. The designers at OSM accomplished this with the use of dramatic, dark colours, showcasing many old photos, while keeping the site easy to navigate and read with large feature buttons to help visitors find key areas on the website.
Staff at the Kingston Police Force will be able to keep the website up to date on a daily basis with the SiteApex content management system, allowing them to better serve their public. Watch for news stories, events, and photos!
Congratulations Kingston Police Force on your new website!
Features Include:
SiteApex Content Management System
Calendar Module (with mini calendar on the home page)
News Manager (with feature article on the home page)
Photo Album showcasing the force's history
Site keyword search to easily locate information
OSM Networks is a web design and development firm located in Belleville, Ontario. Serving clients world-wide since 1997, OSM strives to help empower businesses and organizations take control of their websites giving them a look they can be proud of and the tools they need to grow online.