OSM News
POSTED |
September 23, 2009
OSM Networks provides an Evergreen website for Sustainable Pickering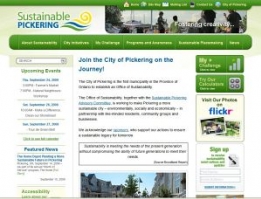 Sustainability: what does it mean? The UN's Brundtland Report defines it as "the ability to meet the needs of the present generation without compromising the ability of future generations to meet their needs." Sounds like a no-brainer, but genuine sustainable development requires careful planning and deliberate actions. The City of Pickering is the first municipality in Ontario to establish an Office of Sustainability, and, knowing that local initiatives only work if people really buy into them, they're having fun with it, largely thanks their new website www.sustainablepickering.com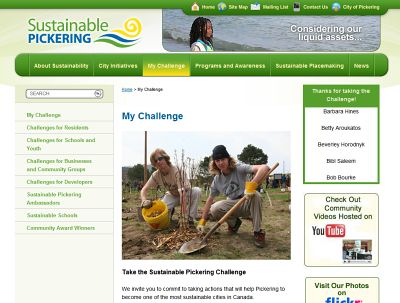 The site is a hub for ideas, information, events and news and invites plenty of interaction. It was created by Belleville's own OSM Networks Inc., in partnership with McSweeney & Associates in Ottawa, and OSM consultant Anne VanVlack thinks she knows why they won the contract. "They really wanted to excite and involve the community," she says. "To encourage schools and businesses and homeowners to use the website, get involved and feel they could make a difference. Well, we've got a lot of experience with websites that really involve the community." VanVlack created the Prince Edward County website www.pec.on.ca almost 15 years ago, an award-winning site that was one of the first of its kind in Canada. She and Eric McSweeney, a specialist in municipal and economic development consulting, were the team who sealed the deal with Sustainable Pickering.
"We were in tune with the people we met with there," says VanVlack. "I admit I felt a little intimidated before our first meetings. Pickering is big, and this was a big project. But the staff were so enthusiastic, you could tell they really cared about the drive for sustainability and they wanted to make delivery of information and resources as personal and inclusive as possible for the people of Pickering." The presence of two local business owners at that first meeting, sitting at the table with the bureaucrats, was the first sign this project was going to be different.
As well the municipal officers and administrative staff, VanVlack and McSweeney got to meet Pickering resident Jack McGinnis, a committed sustainability advocate and a man popularly regarded as the "guru of curbside recycling."McGinnis is throwing his expertise and influence into the project.
With a population that's expected to double in 20 years, Pickering aims to reduce its corporate greenhouse gas footprint by 50 percent, and its community greenhouse gas footprint by 35 percent, both on a per capita basis. They don't plan to backpedal on growth or productivity to do that, in fact the city is recognized by Profit magazine as one of the ten best cities in Canada for growth at the same time as winning the 2008 FCM (Federation of Canadian Municipalities)-CH2M Hill Sustainable Community Planning Award.
Tom Melymuk and Chantal Whitaker, director and coordinator of the Office of Sustainability, know that their success depends on communication and commitment, and having the best interactive communication tool at their disposal is going to help.
"The website solution we provided Pickering is an "Evergeen Solution," says OSM CEO Dave Lawrence, "because it is sustainable in and of itself, they never have to upgrade again, we take care of it all and it's adaptable, with the clients trained to do their own updates. We have a dedicated support desk just for them, which adds that personal touch and separates us from other small companies."
OSM Networks Inc., and McSweeney & Associates have collaborated on economic development websites for Oshawa-Durham, Dryden, Deep River, Pembroke, Carleton Place, Haliburton and the Ontario East Economic Development Commission. OSM has grown a client base of over 1,500 organizations since it began in 1997. "We're not a large company, but we do big things" says Lawrence. "We have fun and we're blessed to have great staff and great customers." Big things like creating and maintaining websites for Habitat for Humanity, Kingston General Hospital, Belleville Police and Regional Infection Control of Ontario; sites where things have to work to perfection all the time.