OSM News
POSTED |
September 8, 2009
Thriving Church Gets a New Online Presence that will Grow with Them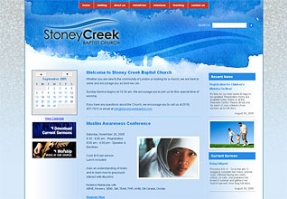 Stoney Creek Baptist Church in London Ontario has just launched a new website with the help of OSM Networks. A long time customer of OSM, Stoney Creek Baptist needed a site that they could keep up to date as their Church grows and new programs are being offered on a continual basis.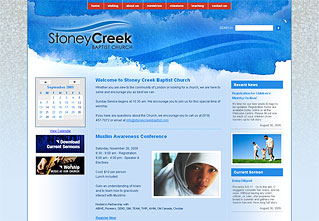 The new site uses the Ministry Builder Content Management System designed especially for Churches and Ministry groups. The easy to use Ministry Builder system is based on OSMís standard SiteApex system with built in Calendar, News, Newsletter System, Staff List Manager, File Manager and more. The easy-to-use admin allows any staff or volunteer to easily update the website and add new pages as their ministry grows.
Using the built in RSS feature Stoney Creek Baptist is able to make Sermons available as a podcast and the Staff List Module protects their staff from spam.
As a bonus, Stoney Creek Baptist will never have to re-build their website again. The Ministry Builder system can have a new design applied to the existing website at any time to keep your website looking fresh and new.
Features Include:

Ministry Builder Content Management System
Calendar Module (with mini calendar on the home page)
News Manager (with feature article on the home page)
Sermons RSS feed/podcast
Staff List
File Manager for downloadable MP3ís of the Sermons